Energy Savings and Expedited Blast Furnace Start-Ups!
The Project
The start-up of a Blast Furnace following planned complete shutdowns or unplanned interruptions can be difficult and costly. 
In the case where a Blast Furnace has been taken offline for upgrading, relining and repair, significant energy and manpower is required to bring the Blast Furnace up to temperature.  Where an unplanned shutdown from breakdown has occurred, getting the Blast Furnace back to operating conditions using traditional methods may be extremely time consuming and nearly impossible. Firebridge Inc. has successfully designed, constructed and operated portable Oxy-Fuel Lance systems on several Blast Furnace start-ups/recoveries.
The Firebridge Solution
Using the Six Delta™ Method to gain an optimised perspective, Firebridge identified several performance improvement opportunities. The Six Delta™ Method is a comprehensive approach through a systematic analysis which considers improvements over six interdependent focus areas.  This method is data driven by metrics from each focus area which combine to drive a strong business case.
The Six Delta™ focus areas for this project are:
Primary: Energy Consumption – Product Quality – Equipment Reliability – Process Production
Secondary: Safety & Compliance – GHGe Emissions
The Technology
A hole is drilled into the taphole to accommodate the Oxy-Fuel lance.
Several thermocouples mounted on the lance are used to measure the lance surface temperature at different points within the Blast Furnace.
Accurate Oxygen and Natural gas flow rates are measured and a precise ratio of Oxygen to Natural Gas is displayed in real time to allow for manual adjustments to be made by operators.
Temperature indication at tuyere level and lance temperatures displayed and trended at the Oxy-Fuel valve train indicates when the Oxy-Fuel lance can be removed and molten iron can flow once again.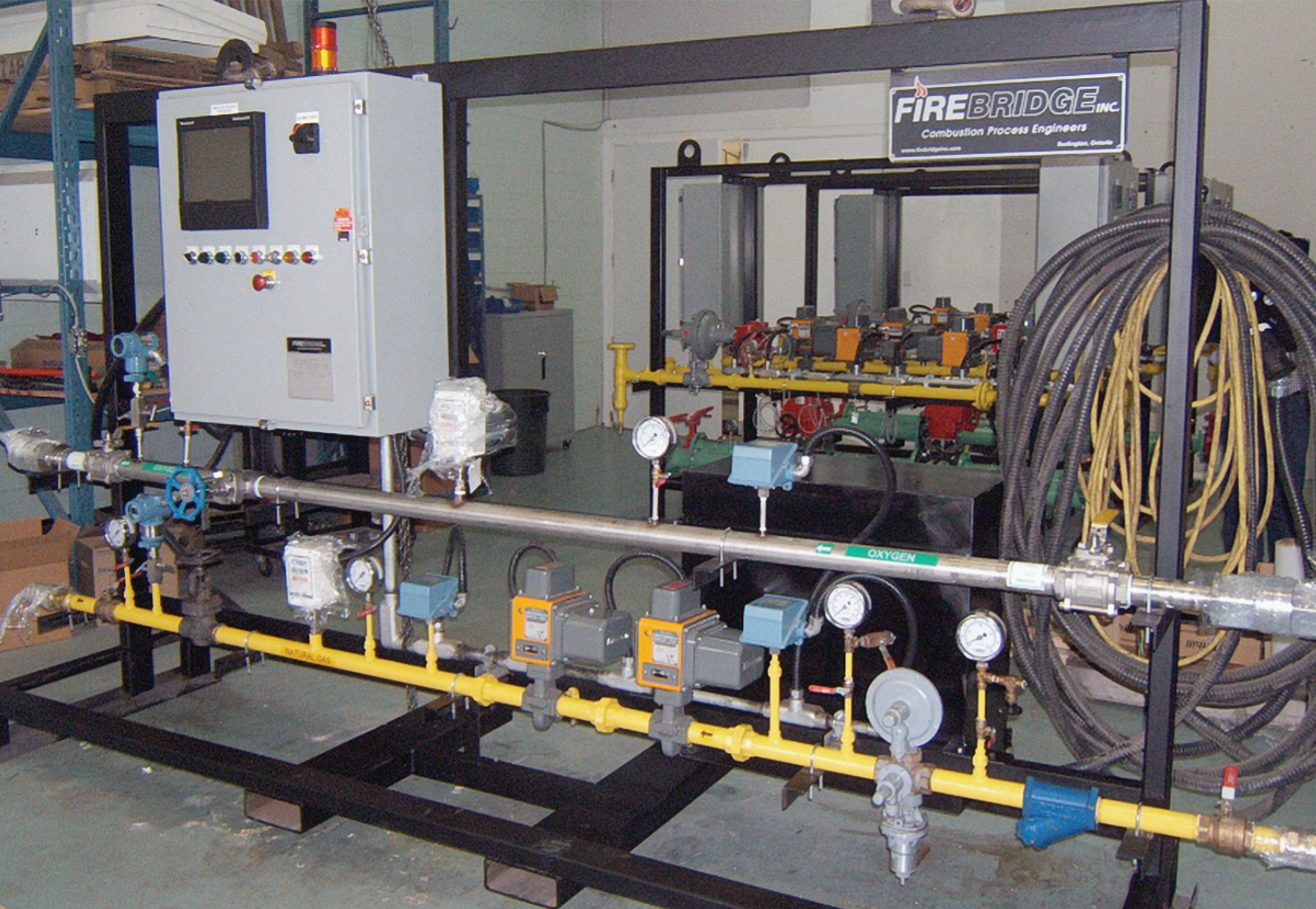 Portable Oxy-Fuel lance valve train line and PLC
---
"An Economical and Effective Solution for Blast Furnace Start-ups"
---

Improved results were found across all Six Delta™ focus areas.
Safety & Compliance
Oxy-Fuel valve train has integrated safeguards in the case of a hazardous disturbance.
Firebridge solution uses a safety PLC and meets current safety standards.
Quality
Between 2009 and 2011, Firebridge has been involved with Blast Furnace start-ups at integrated steel plants.
Multiple start-ups took place after lengthy shut-downs and one involved a chilled Blast Furnace; all start-ups were successfully completed using the Firebridge Oxy-Fuel Lance System.
Productivity
Lances fired for as low as 6 hours, a reduction of 88%.
High Turndown on flow rates (up to 100:1) and accurate flow measurement allows for precise fuel:oxygen ratio control
Energy Consumption
There are substantial energy savings from using Oxygen-Natural Gas as a fuel source during the 24-54 hour heat-up period without having to open tuyeres.
Reliability
Lances and valve trains can be built to customer requirements and stored compactly at site.
Portable unit can be easily set-up and operated
Greenhouse Gas Emissions
Significant reduction in GHGe emissions from less fuel consumption and less time in blast furnace start-up phase.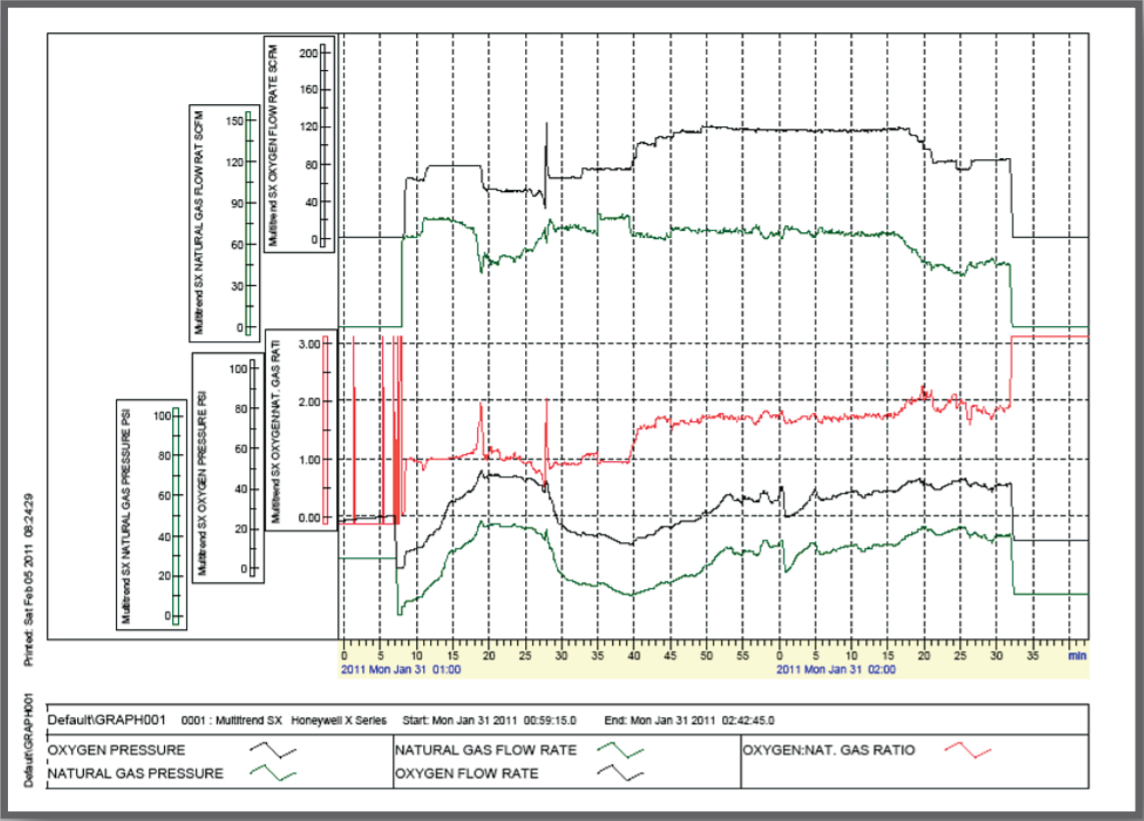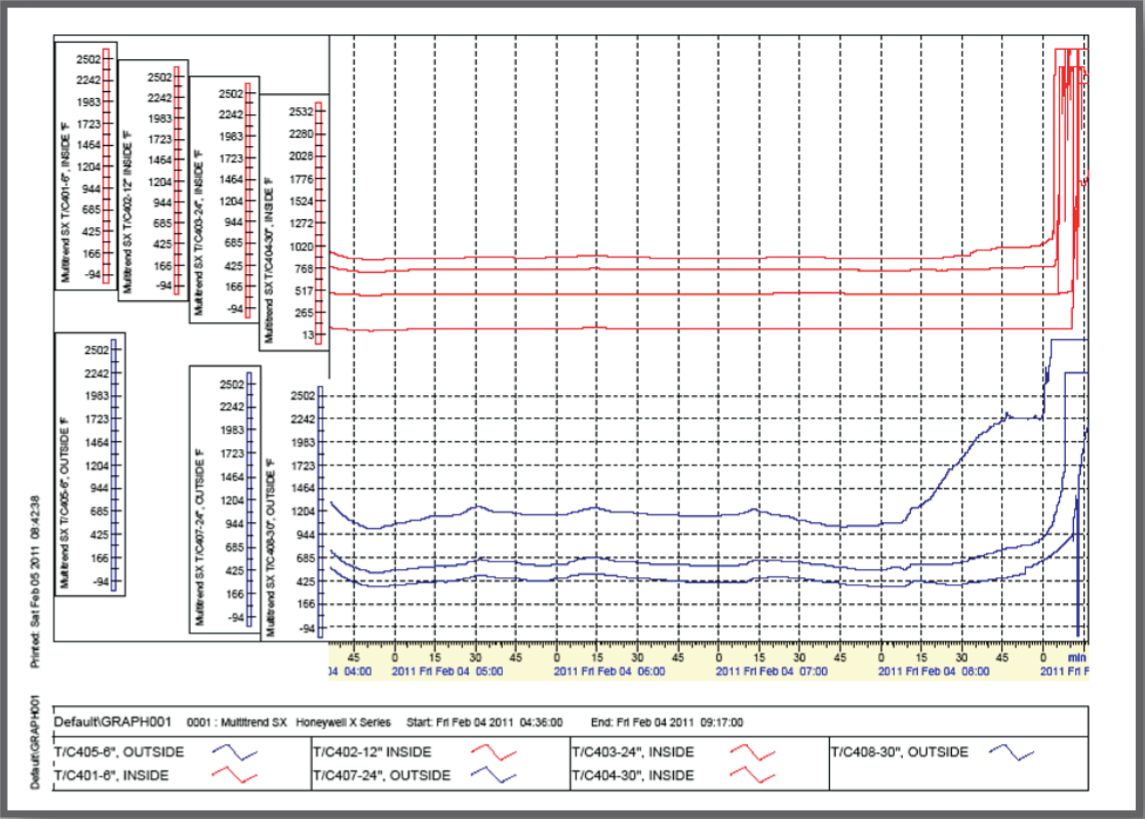 Full data recording capabilities including lance temperature at several locations, fuel:oxygen ratios, gas flow rates and pressures
---