An article posted on the Forbes website last week offers a look inside the political drama behind environmental regulations.
Forbes contributor Jeff McMahon reports on remarks made earlier this month by the U.S. Environmental Protection Agency's Administrator, Gina McCarthy, who was speaking at a forum held at the University of Chicago. McCarthy assured the audience that states were ignoring a letter sent out last month by U.S. Senate Majority Leader Mitch McConnell urging the states to resist the EPA's call for them to develop carbon reduction plans.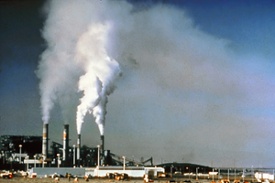 The EPA's Clean Power Plan is the agency's effort to help the U.S. meet the Obama Administration's goal of a 28% carbon emission reduction by 2030 and an 83% reduction by 2050. As part of the federal plan, the EPA is requiring states to develop their own state-level plans by this summer or else adopt the EPA's standards. This has drawn the ire of Republicans who believe it's a case of federal government overreach.
"I hope you will carefully review the consequences before signing up for this deeply misguided plan", McConnell wrote to the governors of all 50 states. "I believe you will find, as I have, that the EPA's proposal goes far beyond its legal authority and that the courts are likely to strike it down. Given the dubious legal rationale behind the EPA's demands, rather than submitting plans now, states should allow the courts to rule on the merits of the CPP."
McCarthy said states aren't paying attention to that letter because they realize the inevitability and the purpose of carbon reduction goals.
"It is going to happen," McCarthy said at the forum. "We have the legal – not just right and authority but responsibility – to do it. People expect us to do it. I don't see any utility thinking we're not going to do it. So the politics are one thing and reality is another."
Another EPA official said that even the 13 states that are suing the EPA over whether it has the legal authority are making carbon reduction plans in preparation to meet the EPA's requirement. McCarthy said the EPA has been meeting behind closes doors with state leaders to design plans that will meet, or even exceed, the carbon reduction goals Obama has laid out.
"We're not having the contention in closed-door meetings that you would expect to see if you thought that Mitch McConnell's effort was going to be successful," she said, predicting that the reductions expected by 2030 "will be much higher by the time we get there."
It's notable that McConnell's objection to the EPA's plan is based on a disagreement over political philosophy (whether the federal government has the right to tell states what to do on this issue) rather than the merits of reducing carbon emissions. It's also very telling that the states are moving ahead with the development of their plans even if they believe the EPA is overstepping its bounds.
Whether or not you agree with McCarthy's claim for the EPA's legal authority, it's difficult to dispute her assertion that carbon reduction plans are definitely going to happen. They may not take the form she envisions, but forced emission reductions will be a reality. The issue is bigger than politics – it's a social issue that's not going away despite any short-term shifts in the political winds.
What does this mean for users of industrial furnaces? That it's time to begin looking for ways to reduce your furnaces' carbon emissions before it becomes more costly to do so. The smartest businesses' including many of the world's biggest companies' are not waiting to lower emissions until they're forced to. Even if they are fighting environmental regulations, they are also accepting increased regulation as a foregone conclusion and are working to lower greenhouse gas emissions like carbon without affecting productivity.
The good news is that one of the best ways to reduce greenhouse gases produced from a furnace is to increase the furnace's efficiency, which results in ongoing productivity increases.
When viewed from the right perspective, reducing carbon emissions is a business improvement as much as it is an effort to comply with tightening emissions standards. Manufacturers that can decrease emissions in their furnaces while maintaining, or even increasing, their productivity will be those that prosper in the coming regulatory environment.
The political dramas will play out, but smart users of industrial combustion processes will react as the American states appear to be – accepting that carbon reduction requirements are an inevitability and beginning now to plan how to achieve those reductions.
Image: U.S. National Park Service  
---